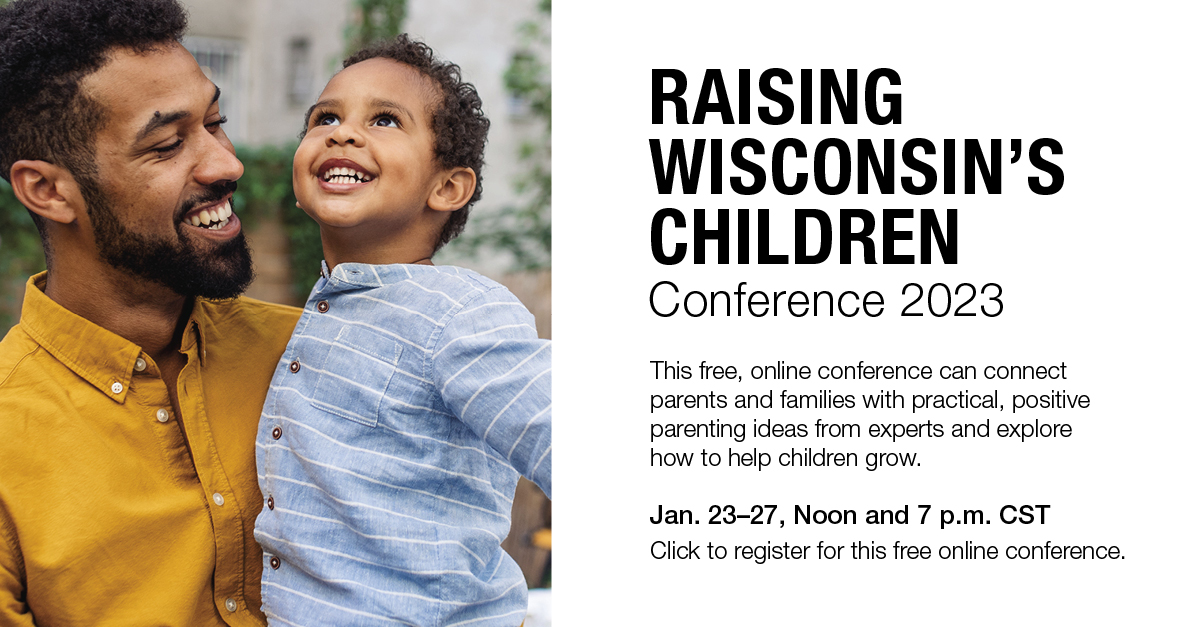 The Raising Wisconsin's Children Conference is a free, online conference for parents and caregivers of children providing supportive, practical parenting and child development information. Please see our schedule below for speakers and topics. Click through on speaker names for bios and presentation details. All sessions will be closed captioned and available with live Spanish interpretation.
An EEO/AA employer, University of Wisconsin-Madison Division of Extension provides equal opportunities in employment and programming, including Title VI, Title IX, the Americans with Disabilities Act (ADA) and Section 504 of the Rehabilitation Act requirements.
Please request communicative accommodations in languages other than English via the registration form or by email to anne.clarkson@wisc.edu, and remember to leave a phone number where we can reach you. Please request public communicative accommodations based on a disability via the registration form or by email to Heather Lipinski Stelljes at: heather.stelljes@wisc.edu. Please make requests for reasonable accommodations to ensure equal access to this conference as early as possible but by January 13, 2023.
Special thanks to our sponsors!
DATE
12 PM CST
7 PM CST
Monday, January 23, 2023
Dr. Traci Baxley
You Belong Here: Creating Safe Spaces at Home (45 minutes + Live Q&A, registry credits available)
Tina Tharp
Breathe, Stretch and Restore (20 minutes)
Tuesday, January 24, 2023
Janice Schreier
Does My Child Have An Anxiety Disorder? What's Normal Anxiety vs Abnormal Anxiety (20 minutes)
Leslie Priscilla
Raising Future Ancestors Through Decolonized Parenting and Reparenting Practices (45 minutes + Live Q&A)
Wednesday, January 25, 2023
Erin Thomson & Sara Warner
Parenting Your Autistic Child: The Joys and Challenges (20 minutes)
Ashley Bowers
The Power of Connection: The Importance of Early Relationships for All Future Health and Wellness (45 minutes + Live Q&A, registry credits available)
Thursday, January 26, 2023
Dr. Alvin Thomas
Fatherhood: Identifying Benefits, Acknowledging Barriers and Challenges (20 minutes)
Lindsey Hoskins
Parents and Caregivers are Sexuality Educators (45 minutes + Live Q&A)
Friday, January 27, 2023
Dr. Pravesh Sharma
Drugs, Dopamine and Brain: Addiction Science and Treatment Among Youth (45 minutes + Live Q&A)