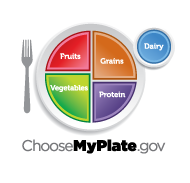 The food guide pyramid has been replaced with a new graphic…a dinner plate.  The new guide is based on the updated 2010 Dietary Guidelines for Americans.  Learn more about "My Plate" by exploring the website.
MyPlate Focuses on:
Making your plate half fruits and vegetables
Making at least half your grains whole-grains
Switching to fat-free or low-fat (1%) milk
Enjoying your food, but in smaller portions
It's about redesigning your plate
---
MyPlate Plan
The MyPlate Plan shows your food group targets – what and how much to eat within your calorie allowance.
Your food plan is personalized, based on your:
Age
Sex
Height
Weight
Physical activity level
---
10 Tips: A Nutrition Education Series at Choose My Plate