Agriculture
If it happens on a farm or in a field, the Extension Institute of Agriculture works with you to achieve better results. Our innovative dairy management programs range from genetics to farm and business management. Extension researchers work hand-in-hand with row crop, forage and fresh produce growers to provide best practices for every aspect of the growing phase. We also advise communities on using sustainable practices to create inviting spaces free from invasive species. Our work supports people, communities and businesses.
St. Croix County Highlights
Making the Connection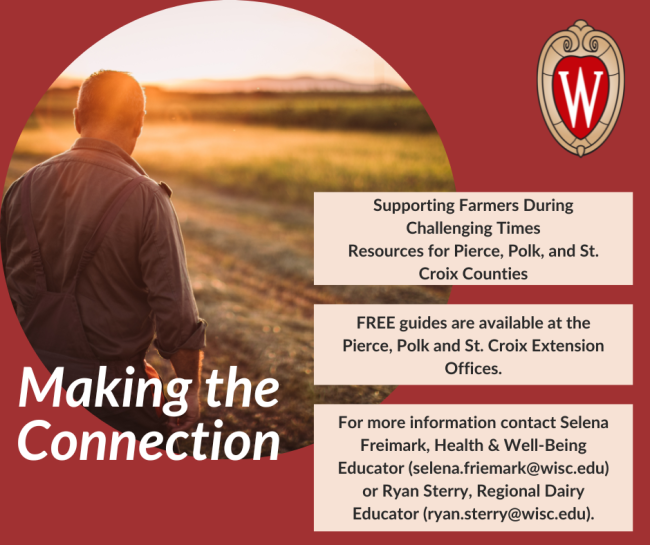 Feeling stressed? You are not alone. A recent Gallup poll found that 55 percent of Americans said they had experienced stress during a lot of the day. The farming community is not immune to stress; ongoing economic conditions in agriculture are taking a toll on farm families and their rural communities.
Extension resources, available online at https://farms.extension.wisc.edu/farmstress/, help farmers, families, businesses, and communities remain resilient. Available resources help teach how to manage stress by recognizing and working to positively address, not avoid, the causes of stress. Additional resources include planning tools to make sound decisions and create a roadmap for the future. Thinking carefully about a situation and clearly understanding it, so you can decide what to do, is a first step to addressing the stress caused by uncertainty, and it puts you on the path to taking control of decisions.
To connect farmers and agri-businesses with local resources, Extension has recently updated and published our guide, called Making the Connection. This free handout helps individuals identify the symptoms of stress, depression, anxiety, and how they affect mental health. Contact information for the Wisconsin Farm Center, NAMI, United Way and Extension is also included for your convenience.
Copies are available, for free, and can be picked up at the Pierce, Polk, and St. Croix County Extension offices. For more information contact Selena Freimark, Health & Well-Being Educator (selena.freimark@wisc.edu) or Ryan Sterry, Regional Dairy Educator (ryan.sterry@wisc.edu).
Statewide Agriculture Programs
Meet your Agriculture Educators:
---